Street art
Prato and the Street Art, a happy meeting between the contemporary soul of the city and the art free of schemes that show itself in the street and public places, the halls of museums and galleries.
THE FACTORY WITH PEDALS
Starting from Prato Porta al Serraglio station, you will find the mural work by the artist Yuri Romagnoli "The Factory with Pedals" that wanted to represent an illustrated story of the textile tradition of Prato where he imagined a textile factory powered by pedal power. Modified bikes that create clean energy and operate the looms and the various equipment for the packaging of clothes. A metaphor of the workforce that makes the economy of the city grow.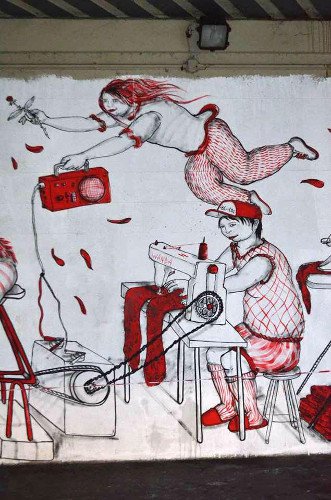 A VERY LONG STORY
Opposite to the station, in the underpass that leads into Viale Galilei, you can see "A very long story" by one of the most appreciated Italian steet artists on an international level BLU, . The work is a real story in stages of the evolution of the human being, from the first microorganisms to man in flesh and blood. The artist does not spare a veiled criticism to contemporary society and represents the last human beings of the work with weapons and rifles. The mural is a bit eroded by the smog and the passage of time, as it has been ten years since its completion. In full respect of the logic of street art, BLU has refused any possibility of restoring the work, since in its conception it was foreseen a death from progressive deterioration.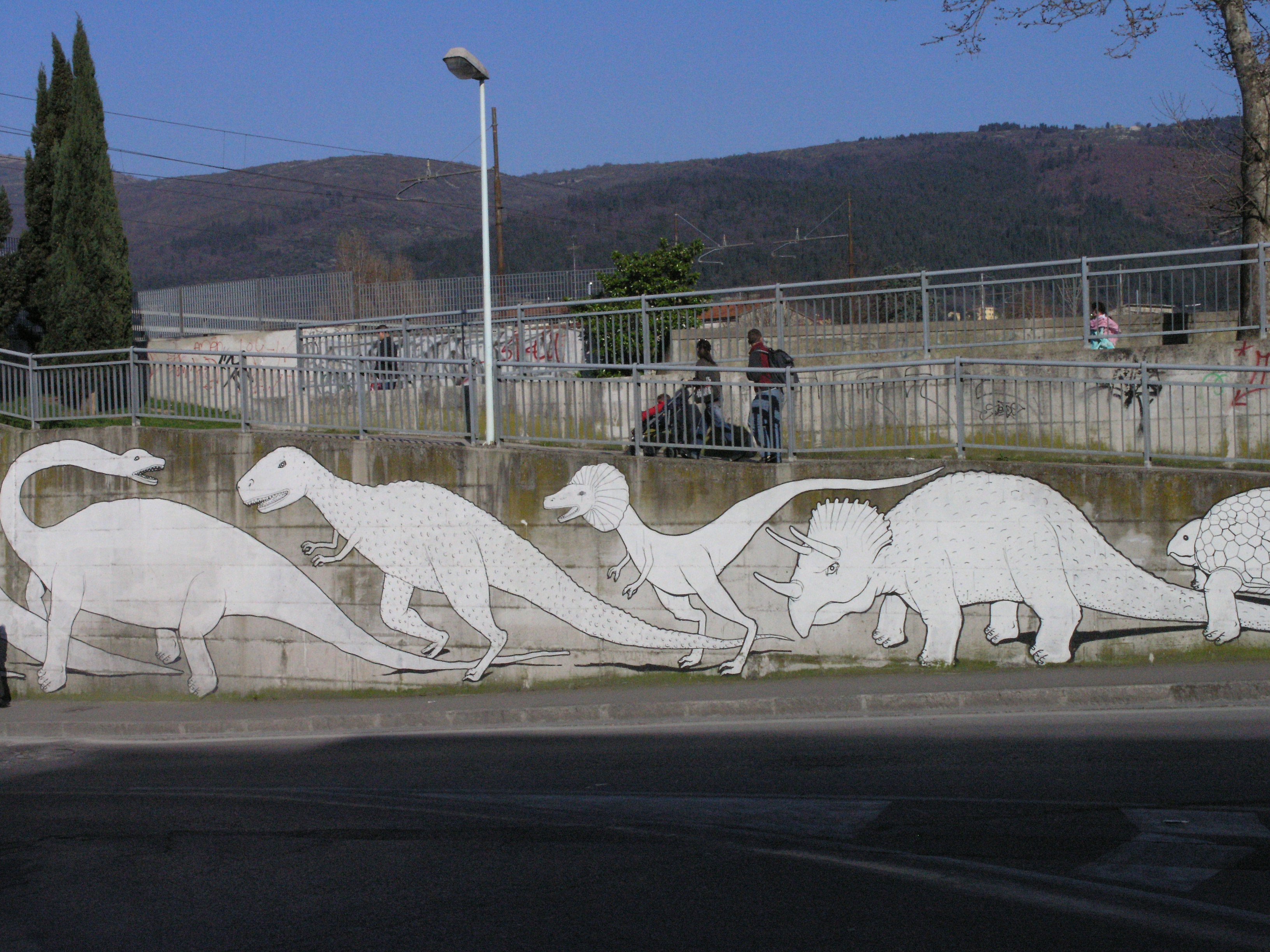 MURAL BY DEM

A more recent mural is on the walls of the former Calamai factory commissioned by the Metastasio Theatre. The work was created by Dem, a famous Lombard street artist. The mural is clearly visible from the cycle path that runs along Viale Galilei. It is inspired by mythological and fantastic figures, which mix human beings, animals and plants and represents the complexity of the city of Prato: the couple on the left indicates the elements that follow and that tell about Prato and its profound changes, starting from history (the Etruscan under the full moon), passing through the Chinese Woman, which refers to the great Chinese community of Prato, to the Tree Man which indicates the attachment to nature and the South African Afro Dancer, symbol of the respective communities, up to get to the last figure, the Unimaginable, or a desirable future where the various elements come together to give life to something new. This last figure in fact recalls, in form and in the motifs, all those preceding it and holding a sign with the word "MET" (which stands for Metastasio).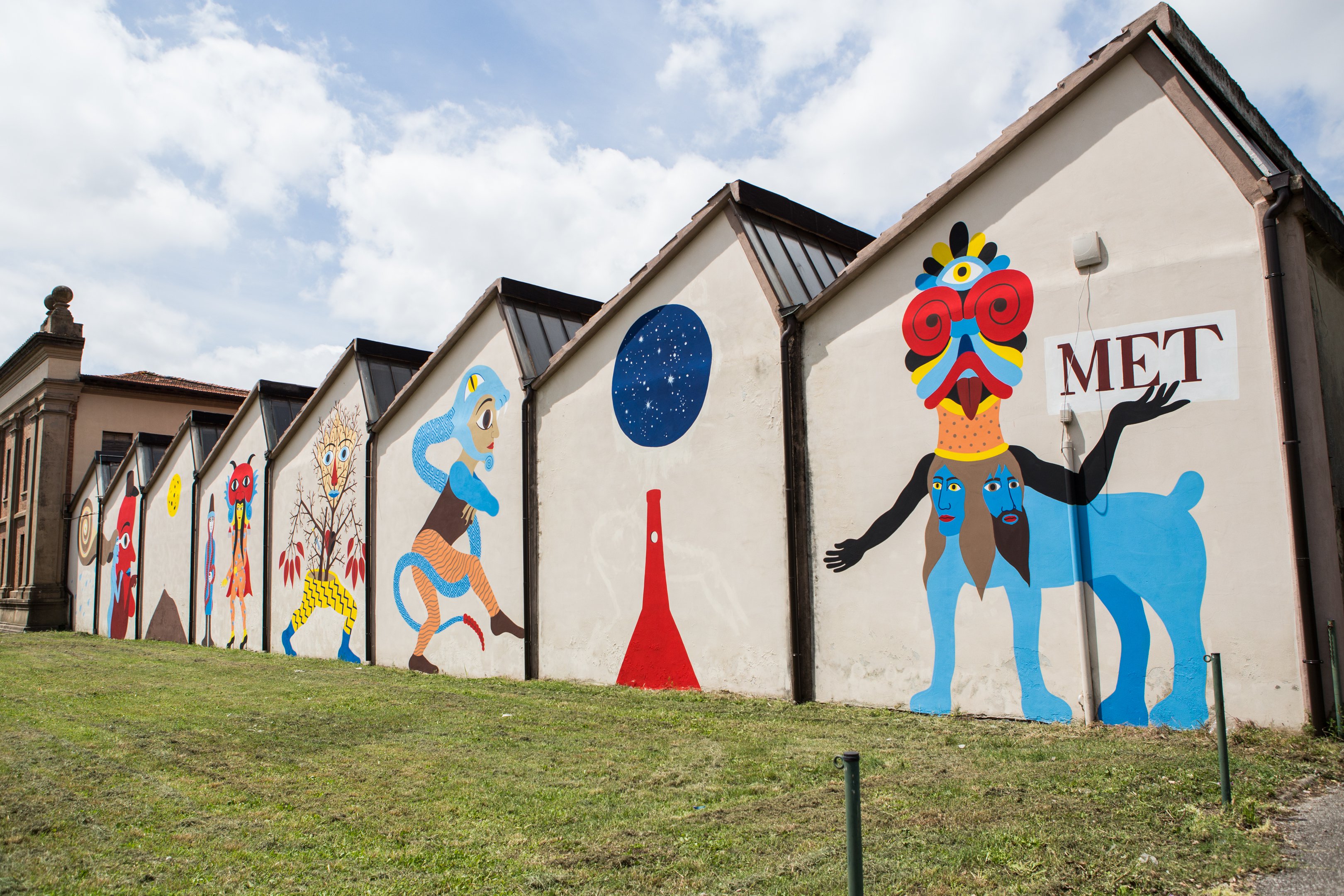 Just outside the walls of the city center, near Piazzale Nenni, BLU and Ericailcane, a very productive collective, have created a mural whose subject is a human body literally divided in half, whose innards are manipulated by a mechanical bird. Creepy but effective!